Lagos policeman' drops ID card after robbing commuter at gunpoint
An alleged Lagos state policeman, Sergeant Williams Godwin, has dropped his ID card after robbing a 41-year old commuter, Henry.
According to reports, Henry boarded a private car thinking it was a cab and was dispossessed of N4,000 and his ATM card. He was also stabbed by a sharp object.
One of the people who rescued him said:
"The incident happened on Wednesday, October 18, 2017. The man was going to work on the Lagos Island when he boarded the private car. Along the way, they pointed a gun at him and took his ATM card and the N4,000 in his bag. While the policeman was ransacking the man's luggage, his ID card fell into the man's bag. They stabbed him with a sharp object and dropped him off."
Her'es the forgotten ID card of the sergeant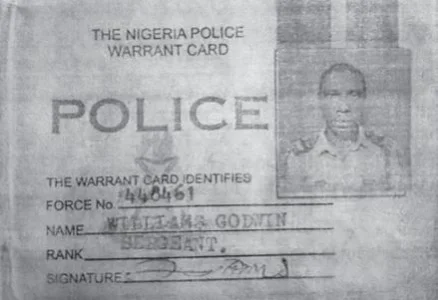 follow us on twitter
Like us on Facebook
@aljazirahnewsng
---